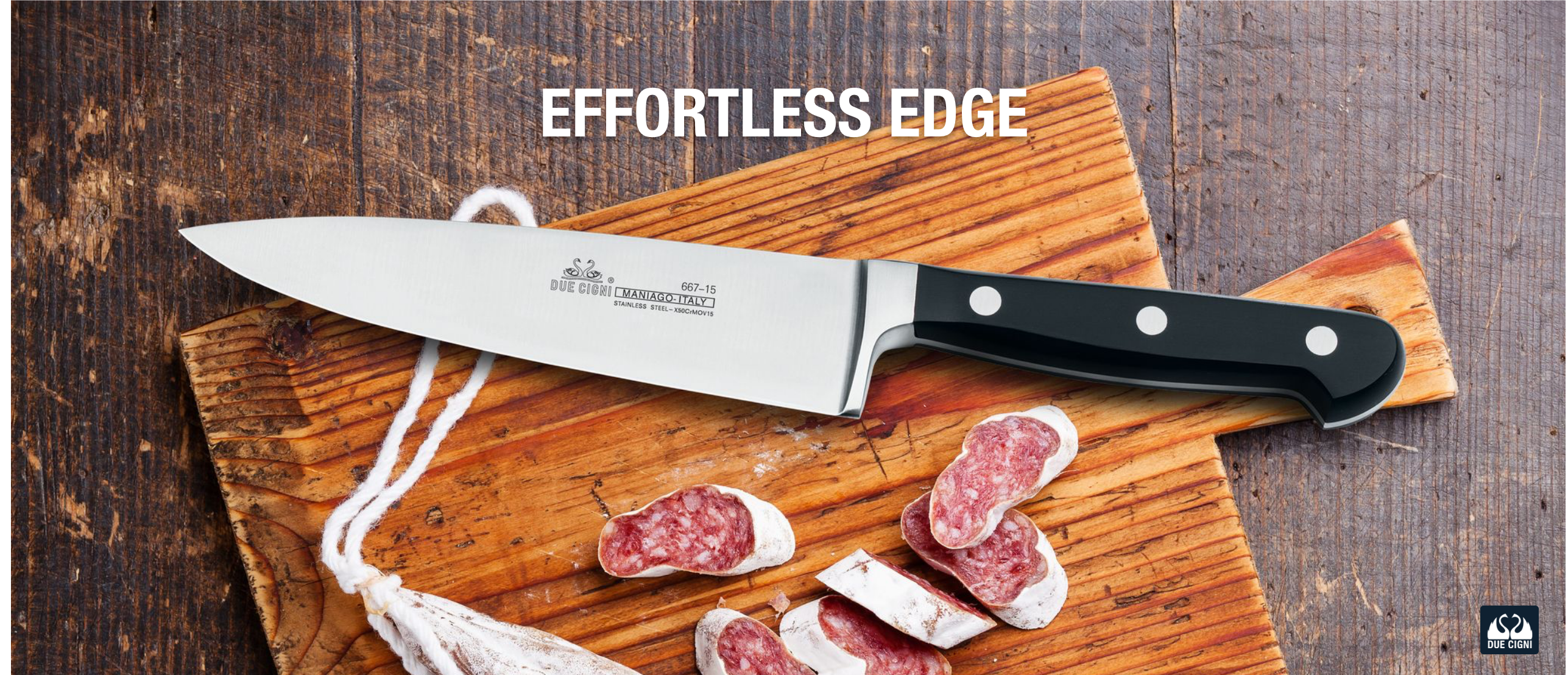 Kitchen Knives
Elevate your culinary mastery with the Duecigni Cutlery Kitchen Knives Collection, where the artistry of Italian craftsmanship meets the precision of modern kitchen tools. Each knife in this extraordinary collection is a testament to centuries of dedication and innovation, designed to transform your kitchen into a realm of culinary excellence.
Italian Heritage, Timeless Design: Rooted in the heart of Italy's cutlery tradition, Duecigni Cutlery blends timeless design with contemporary innovation. The knives in this collection feature expertly crafted hardwood handles that not only provide a comfortable grip but also add a touch of sophistication to your kitchen decor.
Uncompromising Precision: Precision is at the core of Duecigni's philosophy, and the Kitchen Knives Collection exemplifies this commitment. The blades are meticulously forged from high-carbon stainless steel, ensuring unparalleled sharpness, durability, and resilience. Whether you're slicing, dicing, or chopping, these knives perform with effortless precision.
Versatility for Every Culinary Adventure: The Duecigni Kitchen Knives Collection offers a comprehensive range of knives to cater to all your culinary needs. From the versatile chef's knife to the nimble paring knife, each blade is crafted to handle specific tasks with ease, empowering you to explore your culinary creativity.
Craftsmanship Meets Longevity: Built to last, Duecigni Cutlery stands behind the quality of its products, ensuring that your investment in these knives is a lasting one. With proper care, these knives will become cherished companions in your kitchen for years to come.
Experience the Artistry of Duecigni Cutlery: Embark on a culinary journey where precision, craftsmanship, and timeless design converge to create a collection that truly stands apart. The Duecigni Cutlery Kitchen Knives Collection is your gateway to culinary excellence, whether you're a professional chef or an enthusiastic home cook.
Your Culinary Masterpiece Begins Here: Unleash your culinary potential and elevate your cooking with the Duecigni Cutlery Kitchen Knives Collection. Precision, elegance, and Italian heritage blend seamlessly in these exceptional knives, promising to transform every slice into a masterpiece.